Impartner + Salesforce =
Better together
Impartner + Salesforce =
Better together
Impartner + Salesforce =
Better together
How leading companies unite their PRM and CRM worlds
Unite partnership data with your Salesforce data through a clean, reliable, and flexible native integration. Your customer data remains in a single, unified location. And, you can set up everything you need, with no need to bring in IT.
Key features of our Salesforce
integration include the ability to:
Seamlessly integrate partner pipeline and more into your Salesforce instance
Easily configure and manage your integration between CRM and PRM – including the ability to select sync directionality on a field-by-field basis
Energize your partners with an easy-to-use interface, and a personalized partner experience
Ensure your data is secure through Impartner's robust security protocols
We have all these custom reports built into Salesforce on one dashboard, so it's a great view for our team internally. It's also our partners' one-stop shop. It's everything that they need at their fingertips. The tool is just so robust, and it really helps set the standard.
—Anthony Moy
Partner Experience Manager, Mambu
Impartner + Salesforce integration tour
Find seamless workflows with real-time Salesforce data in Impartner's CRM Sync engine. Our secure integration is trusted by hundreds of partnership teams who enjoy an easy connection between Impartner PRM and Salesforce CRM. Take a full tour of our integrated lead record flow process now!
Consolidated data = consolidated management
Resolve channel conflict while keeping your data integrity intact by leveraging our real-time, native Salesforce integration. Whether you need to track MDF, distribute leads to partners, or create a unique process for your business via Impartner's Custom Objects – there's a solution add it to your PRM platform and sync the data over to Salesforce and back.
Your partnerships team doesn't need to jump into separate solutions to get the data they need – it's all in Salesforce – enabling you to have reports of your direct and indirect sales all under the same hood.
A PRM + CRM integration that ecosystem leaders love
We're #1 on G2 for partner management.
Impartner creates an end-to-end solution for our partner experience. They deliver a world-class solution that is extremely seamless and easily integrated with our Salesforce CRM. The CSM and support team is SO helpful and reliable.
Empower your partners, grow your ecosystem
Tap into personalized portal content that always exposes the right data to the right partner with Impartner's SegmentAI functionality. All the tools that your partners need to access are available behind a single login.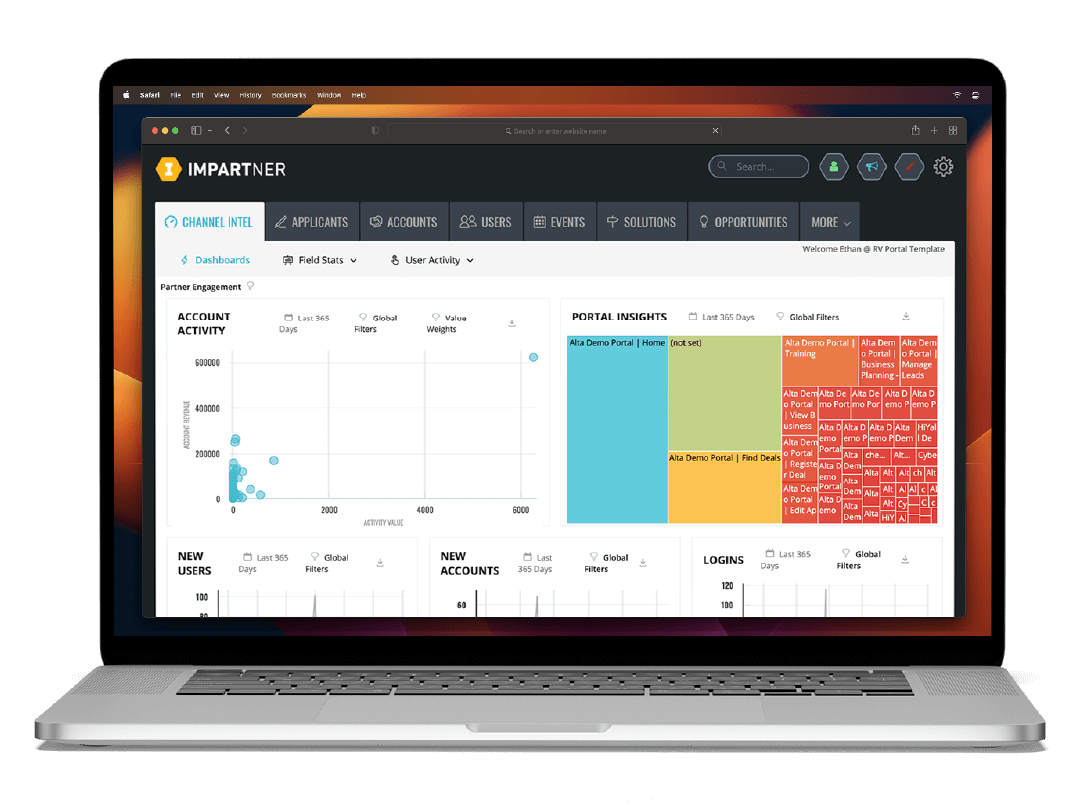 Metrics that matter
Without data, you're just guessing. Our industry-leading Impartner Analytics empowers you to make better decisions with robust, customizable dashboards and real-time analytics that drive ROI.
Security you can rely on
Our solutions are built to meet today's demanding security requirements such as SOC II type 2 certification, GDPR compliance, and data encryption in transit and at rest. Need proof, just ask one of our many cybersecurity customers.
Let us show you how to take your channel performance to the next level.
We look forward to showing you why leading corporations trust us to help them automate, optimize and accelerate the performance of their channel.
All fields are required.
Thank you for getting in touch!
We appreciate you contacting us. One of our channel specialists will be in touch with you soon!
Have a great day!